A combination of adult gaming with interactive 3D sex games, hentai, and porn
Some dudes just love to play interactive online sex game video games, at home on the computer or in the arcade. Some love hot VR porn games too. When we combine the two, things can be quite exciting proposition.
We sum up the top 6 interactive sex games and application in 2018, so that those who have an itch for some unique fantasy gaming can get exactly that.
[wp-review id="18517″]
[wp-review id="18535″]
[wp-review id="18538″]
[wp-review id="18543″]
[wp-review id="18545″]
[wp-review id="18547″]
3DxChat
3DX Chat an erotic social network game. It's a Massive Multiplayer Online game, AKA MMO, where you can meet tons of people in the virtual world.
Make friends and talk to people online who are most likely as sexy and horny like you. 3DxChat has won numerous awards for best virtual sex, best adult MMPORG, and best graphics. It even won the most innovative sex game overall. So yes, it's an amazing game!
So just what brings you to join a virtual world of erotic sex rather than getting into a real-life relationship. We all know how thing can be complicated when the real world is involved.
Or may you just don't want to deal with people in general.
Perhaps you are just shy, and you don't want to be judged by the way you look. Staying anonymous online is a better way to go.
This interactive sex game will allow you to be whoever you want to be and have lots of fun doing it.
Find fun swinger friends and meet people from all across the globe in your own avatar. This is the type of erotic fantasy that will take things to a whole new level.
Creators of this game are always adding new features for the players, such as customizing hairstyles, new locations, and new sex acts to play in.
This game is also available in virtual reality, meaning you can experience it with your favorite VR headset.
The best part of the game is the community. 3DxChat is full of kinky open-minded people who is only looking forward to the best time in the game, just like you.
The bad news is that you must download the game onto your computer, which is a bad idea for some people. Definitely not a good move if your wife or kid finds it on your computer.
In our opinion 3DXChat is by far the best adult MMO that is available. The creators have been updating the game over the past few years, such as the virtual world editor.
The editor is highly configurable. So soon you can have a virtual world exactly as you want it. There are plenty of materials to customize your own virtual world. Materials include things like sand, concrete, rock, and even lava.
Life Selector
In interactive porn game, you control the story and decide what happens next. Select your favorite game and control the action.
Life Selector is a great concept for a interactive porn site. It is mixed with different genres and definitely one of our top picks. In case you are wondering, this is a choose-your-own-erotic-adventure interactive game site. There currently over 400 games on the site.
Here is how it works. You can search for models and also look through various categories. When you find a game that you offer, you can begin the interactive experience. The POV clip begins and you are presented with the porn star. The game asks you different options as far as how you prefer to proceed. You can decide to do things with her such as breakfast in bed and a blowjob, or watch her take a shower while she plays with herself.
What make Life Selector even more amazing is that they have virtual reality section, so you can strap on your favorite VR headset and get on with your own interactive porn game adventure. You must try this game for yourself. This is not ordinary porn, you feel like you are there with her. At some point if not always, you must have fantasized a hot girl doing whatever you wish with her. Well, here is your chance.
You can enjoy several scenes for free, then you will need to fill up some credits to take your erotic adventure to the next level. This interactive sex game definitely makes watching ordinary porn more fun and dynamic. You can watch a video over and over again, and each time can be a totally different experience. The game is very user-friendly, simple, and easy to play.
The game has some of the hottest names in adult industry such as Janice Griffith and Riley Reid. This is definitely one sex game you do not want to miss.
3D Sexvilla
3D SexVilla 2.5 HD is an improvement of the already awesome graphics. If you are not already familiar with 3D SexVilla, you probably won't appreciate it as much as we do. This game is possibly one of the most established and most popular 3D sex games.
The only limitation is that you will need to pay extra to remove the fuzzy censorships over certain naughty pixels.
The newly upgraded graphics gives a even smoother and realistic look of the characters than previous version. You can freely select from a number of filter before the game starts. However, too many filters checked will slow down the speed.
There is no harm to download the game to check things out. Play with it for a little bit to see if you like it. If this is your cup of tea, then you can think about getting some XCoins to remove the censorship and purchase customizations.
There over hundreds of customization options available that ranges from sex animations, character, clothing, sex toys, and over 40 locations.
As you stroll down the virtual world scene, you will find that you can even have foursomes.
When you first launch the game, you will notice the login screen. Go ahead to enter your username password. You must be connected to the Internet, as your membership needs to be verified and download any updates.
You can set the display options after log-in, such as full screen. After going through all the game options, you will get the main screen options. You will begin to notice the quality of graphics, which is what you will find in the game.
The two primary entrances will either take you into a new game or to the sex ship. The sex shop provides access to sex packs such as new people, locations, poses, and sex toys. A growing number of options here will allow you to fully customize the game.
3D SexVillas 2 sex packs can be purchased with virtual token called Coins. These can be purchase in a variety of combination. Of course, the more you buy, the better deal it is.
The main screen will display statistics of your sex coin balance. You can also view and camera shots or videos that you captured during the game.
There is no doubt that 3D SexVilla is a top notch sex game with amazing graphics. The interface is easy to use and navigate.
We recommend spending a few minutes to read over the tutorial, so you can acquaint yourself with the game. All the options are worth checking out!
The first option is the quick mode. There is no sex coins earned here but you can get into the action rather quickly.
The free mode works like the quick mode, except you can select who to have interactive sex with. The excitement level starts at zero, and sex coins can be earned using the particular mode.
The story mode will earn you the most sex coins. There are numerous sexual stories which take you through a huge amount of sexual adventures. Answering the correct answers will get your session going. If you answer it incorrectly then you may get kicked out of the game.
In our opinion, the story mode is the most interesting mode, as it allows more interaction. It is also harder to get into the action, which can be fun as a gamer.
As the story progresses, the game function the same way as the other two modes.
Using the right click to undress your characters or to customize their clothing. You can put on make up or body. The right click menu also let you pick a particular camera angle.
It is easy to navigate the scene. Simply click and hold down left mouse button and move full 360 degree rotation. The scroll wheel lets you move the camera up and down. When moving the mouse, you can right click and hold to zoom in and out, or to rotate around the scene with the selected camera angle. Furthermore, the cursor keys can also be used to zoom in and out, or change the camera up and down.
We particularly like the sex browser for choosing sex positions, outfits, or toys. You can also drag your favorite into the quick bar for easy future access. Hover over items location on top right of the screen for information, which can be useful to remind you what the buttons are designed for.
You can undress your players and use the sex browser to set things such as sexual position. The speed of the action can be modified using a slider on screen, which is a great way to escalade the erotic experience.
The sound is also very realistic. With great graphics and smooth gaming, you will soon be glued to your screen.
When signing up a membership, you will also get access to 3D Slut and 3D Gogo, which make 3D SexVilla 2 extremely good value.
iStripper
iStripper is a software application for desktop that displays erotic shows directly onto your taskbar, without background.
It is a strange but profound experience to have a personal stripper right on your desktop.
iStripper international adult performers are carefully selected and produced in cutting-edge French & US studios.
There are over 3,000 shows performed by 600 models waiting for you. The catalogs are updated daily with one new show.
iStripper content is shot with a ultra HD 4K quality. You can pick the most suitable resolution that works for you, from 720p up to 4K.
iStripper has one goal, to escalade your senses and trigger your deepest desire. This is one desktop application with super high standards in matter of gorgeousness and sexiness.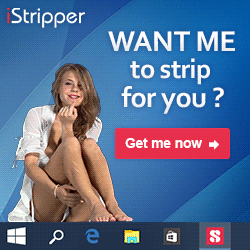 Pornhubcasino
Do you dig free tube sites like Pornhub? They are probably one of the biggest porn site in the world. Most would agree they are the ones that started it all.
Besides providing endless supply of free adult content, they also offer industry stats that get used by mainstream media platforms. Well, the company now also appears to be moving into a whole new niche, which is online gambling. Of course, this is not ordinary gambling. It's real life casino gaming with live nude sexy dealers.
If you love gambling and hot chicks, this site is for you. Live poker with hot tits around you? Spinning live roulette while girls in hot thongs wishing you good luck? How about play live baccarat with a barely legal hot teen babe in see through bikini?
This interactive sex game brings together two of the best things, that is, pussies and casinos. The sexy live dealer are usually wearing uniform of slim fitting little black dress. However, you can't pick your game based on the girl that you like, but you can always ask when she will be back online, so you can play and chat with her again in live game.
Pornhubcasino is real gambling, and the real deal that could potentially win you so money. You can play all sorts of standard casino games, but you can also bet on other popular sports games that are going to take place.
Look out for fun and exciting promotions going on with hot babe in the advertisements. Be sure you check out the promotions page to find out how to save money, and squirt few drops of jizz at the same time.
The site is easy to use and it is available in several different languages. So it's not an excuse if you do not speak English. You can get connected with Polish, Spanish, and Romanian games and dealers as well. There are currently 24 languages.
Nutaku
We know you are a perverted hentai sex game lover, so we won't even care to ask.
Nutaku is home of sexy hentai games from Japan. This game is not only fun to play, but give you a hard one as well. With the amount of available games, does spending a whole Sunday afternoon sounds like a plan?
First and foremost, you will need to sign up a user account before accessing anything on this site. The good new is that only your email address is needed and you can have fun almost immediately. The site will even reward you with gold when you sign up, you can even log-in with Facebook. After you've done that, it's time to get ready for the most fantastic tour of the most sensational erotic experience of interactive 3D sex games.
The games are Hentai Card Battle, Dating Sims, Tower Defense and more. There is surely something special for everyone here to spice things up.
The site's layout is superb. It allows you to navigate your way around many titles that awaits, such as Pussy Saga, Shinobi Buster, and Flower Knight Girl. It really become a test and challenge to coordinate your eyes to focus as sexy anime babes perform sexual acts in seducing adult action.
We were especially amused by the Harem Heroes game, which is really a silly game based in a virtual world where players are too horny that their pants automatically falls off.
Karma Sutra is also worth checking out. It is based on an imaginary land where sinners visit after they die. This is where they spend their afterlife fucking. Not bad to be a sinner right? We thought so too.
Players can easily select what ever sex game they prefer to play on Nutaku. The game are categorized and organized into Top Ranking, Newest, and Recommended. The contents can be broken down to Premium content (downloadable), Free to Play (browser), and Free to Play (Mobile).
What's even better is the you can sort out the games yourself base on alphabetical as well. You can also filter publisher, developer, tags, and genre. We were especially impressed to find that there are specific games for Mac and Androids.
There are significantly more games available for premium membership. Remember that the creators also needs to make a living. With that said, you won't have to be concerned about cost as games range between $1~$45. Essentially, you get what you paid for. The more expensive the game, the more work the creator put into making the game. We can only imagine these cartoon characters getting wild and nasty, leaving you glued to your screen.
The site has great customer support, while gamers can have their issues solved by the supporting team. The staff members are available 24/7 for billing and all other inquiries.
You can also connect with other Nutaku member to browse their profile, and find out what top interactive sex games tops their list.